Our Pools Mainpage: www.suprnova.cc. Our Twitter: twitter.com/SuprnovaPools Be sure to follow us for updates and news !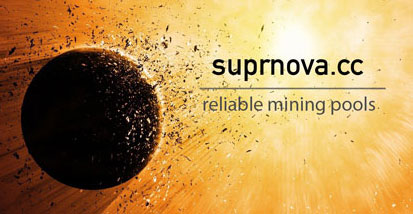 This is a
NGv2
Pool - you can use your Suprnova unified login here ! (All Suprnova Pools with this logo share the same login and worker information - no need to re-set everything !)
Suprnova's FailCoin Pool // Algo: Scrypt // LIVE !
stratum+tcp://fail.suprnova.cc:5812
We are investingating issues in the backend. Your shares and hashrate are safe and we will fix things ASAP.
Blockupdate disabled, blocks and transactions confirmations are delayed
Payouts disabled, you will not receive any coins to your offline wallet for the time being
Contributor Shares
| Rank | Donor | User Name | Shares |
| --- | --- | --- | --- |
| 1 | | anonymous | 159,232 |
| 2 | | atomicgroup | 66,816 |
| 3 | | ogb76 | 43,911 |
Contributor Hashrates
| Rank | Donor | User Name | KH/s | FAIL/Day |
| --- | --- | --- | --- | --- |
General Statistics
Pool Hash Rate

0.000

MH/s
Pool Efficiency
100.00%
Current Active Workers
0
Current Difficulty

0.03148151

Est. Next Difficulty
0.04018916 (Change in 1 Blocks)
Est. Avg. Time per Round (Network)
46 seconds
Est. Avg. Time per Round (Pool)
zero seconds
Est. Shares this Round
2,063 (done: 13085.74%)
Next Network Block
2,020,592 (Current: 2,020,591)
Last Block Found
1,702,126
Time Since Last Block
4214 hours 35 minutes 8 seconds
Last Found Blocks
| Block | Finder | Time | Actual Shares |
| --- | --- | --- | --- |
| 1702126 | ogb76 | 05/30/2017 22:05:02 | 2,752 |
| 1702109 | ogb76 | 05/30/2017 21:50:20 | 3,392 |
| 1702062 | ogb76 | 05/30/2017 21:25:30 | 4,160 |
| 1702023 | ogb76 | 05/30/2017 21:00:28 | 2,721 |
| 1702001 | ogb76 | 05/30/2017 20:47:50 | 1,552 |
| 1701528 | atomicgroup | 05/30/2017 15:56:36 | 64 |
| 1701527 | atomicgroup | 05/30/2017 15:56:20 | 6,425 |
| 1701493 | atomicgroup | 05/30/2017 15:35:58 | 512 |
| 1701490 | atomicgroup | 05/30/2017 15:35:31 | 1,216 |
| 1701482 | atomicgroup | 05/30/2017 15:30:10 | 1,081 |